Copyright Westridge Management Corp. 2008 - 2019. All rights reserved. 

OUR PUBLICATIONS


Based on our expertise and over 25 years experience in sales, marketing, planning, and management in selected industries such as: equipment manufacturing, food processing, foodservice we publish books that help small businesses: to start up successfully, to reduce the potential risks, to get necessary financing, to promote business, to organize and manage day-to-day operations, to improve the sales bottom line, and find answers to many other practical questions that small business owner meets every day. 
"ARTISANAL ICE CREAM, GELATO, AND OTHER FROZEN DESSERTS BUSINESS"

This book is the first and currently the only business resource in artisan ice cream and gelato industry. It helps to organize business and successfully compete on the market.

(sold out)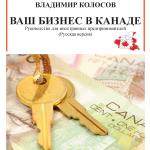 "Ваш Бизнес в Канаде" ("Your business in Canada" updated 2018 version, release in March 2019) - the only book in Russian language about features of running business in Canada. Reader will find section about: 

key aspects of running business in our country, 

how to buy and sell business, 

how to invest in business, 

legal and tax issues, and much more.

Any questions? Send us e-mail 
e-mail
"THE THEORY AND PRACTICE OF GELATERIA SITE SELECTION"

The site selection is one of the most difficult task to solve for entrepreneur who wants to start gelato business. "The theory and practice ..." is the clear and plain guide how to evaluate location wherever it is, how to estimate the future capability of gelato business for any particular location around the world. This guide combines knowledge from various disciplines, such as: demography, psychology, geography, economics, finance, mathematical statistics and methods of optimization, and provides entrepreneur with powerful strategy and resources that helps resolve the task of the proper site selection efficiently. This book was written exclusively for Carpigiani Gelato University.